"The choice of brewing machine just seems to get bigger with every passing year. If you are in the market for a new machine, here are our top picks. We have broken them into different categories. The Elektra A3 is long discontinued and replaced by the T1 but if you can find an A3 it is worth it."
Our Top Coffee Maker Selection
for the coffee enthusiasts
All prices are indicative at the time of review writing, please check with the manufacturer, or on-line, for latest pricing.
Note: If a grinder is not included it will be an extra expense, budget from £150 to £650 for a grinder. You can get cheaper grinders but for a good grinder, to match the above machines, you will need to be in the suggested range.
Cuisinart Grind and Brew Plus
£139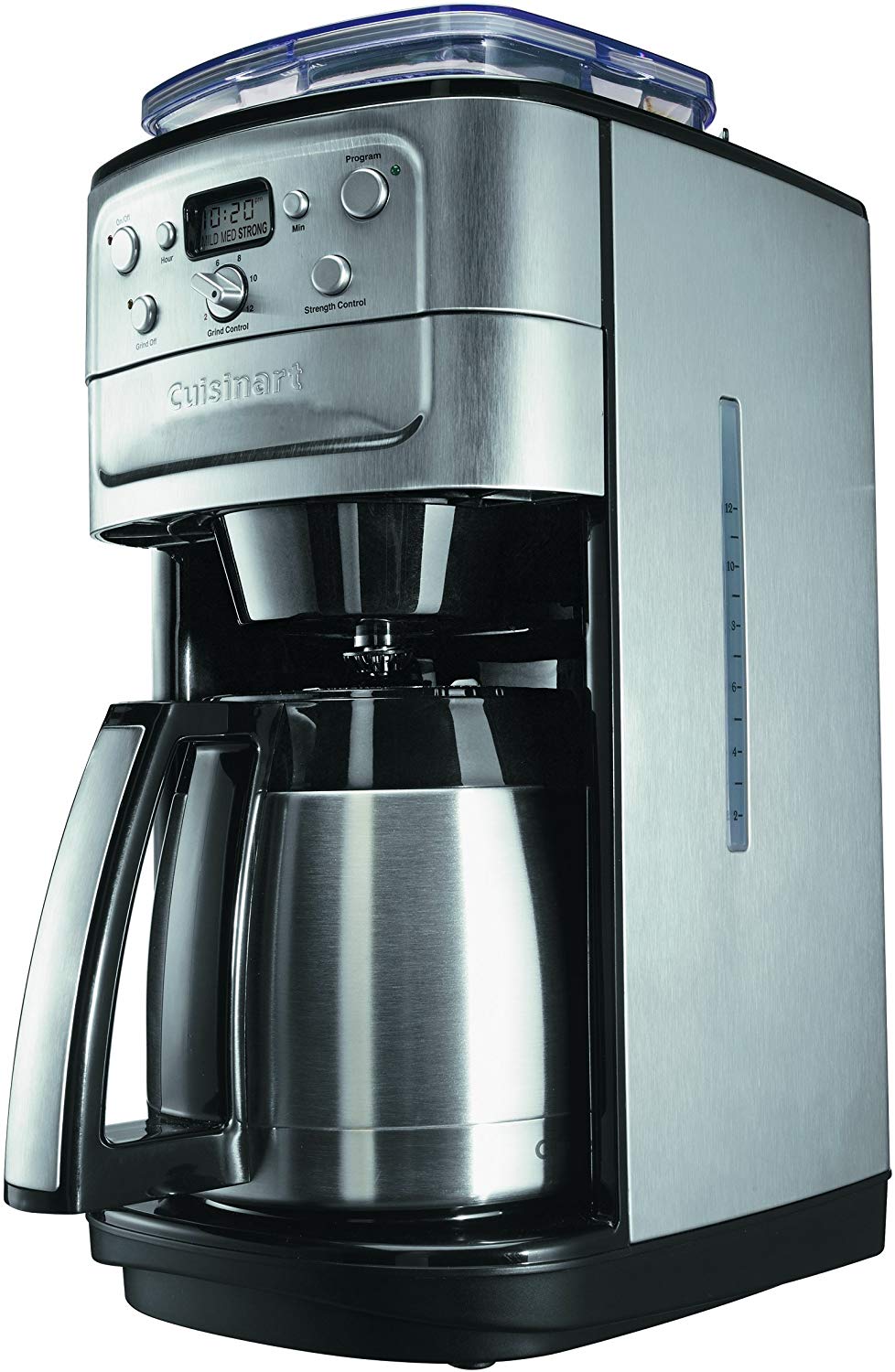 If you like filter coffee and you just want a decent carafe of coffee then the Cuisinart Grind and Brew Plus is ideal. The machine sports a bean hopper on top and a built in Burr Grinder. Slip a filter into the unit, or use the washable mesh basket that comes with it, select Mild, Medium or Strong and let the machine fill the thermal carafe.

At the price point we really like it and if you are just getting into coffee it is a decent starting point.
SCOTT Slimissimo
£249
The SCOTT Slimissimo is a serious, serious bit of kit for the price, listed on the scott-gear.co.uk website at £349 it is a value contender but search on Amazon (prices change - we found it for £249) and you might find yourself with a phenomenal bargain. It looks stunning, is well built and for a coffee connoisseur, that likes espresso or stretched espresso, this MUST be on your shortlist.

There is so much to like about this coffee maker, it has a tiny footprint (ideal for almost any kitchen), super quick startup (23 sec) then only 56 sec later you can be enjoying a 125ml lungo. It is as quiet as it is fast - the pump runs at only 58dB and the grinder operates at a very respectable 75dB. Most importantly, the coffee output is excellent.

The design is sleek, well thought through and practical. The small water tank and bean hopper keep everything fresh (we particularly like the seal detail on the hopper lid), the company have made innovative use of magnets on access panels and the drip tray. Cleaning is super easy and it has a simple, but elegant, digital interface. The LED illumination around the cup is a nice touch and the chrome accents give the machine a classy look.

At the price point we can't see anything better. In our list it is most comparable to the Melitta Purista but given the larger 19bar pump (vs 15bar) and smaller footprint the SCOTT Slimissimo is the better buy and has replaced the Purista as our Best Buy coffee machine.
| Watch the Video on Google Drive | Read Full Review |
| --- | --- |
DeLonghi Magnifica ESAM 4200
£299
If you want Espresso or Espresso based drinks such as Americanos, Lattes or Cappuccino's then you will not go too far wrong with the little Delonghi. We have been using a Magnifica 4200 for over 5 years, produced thousands of expressos and the machine is still going strong.

It is not as solid built as the more expensive models, frankly there is a lot of plastic used but it has a dual boiler; 15bar pump; and a really simple 1 touch operation. Overall, it is difficult to fault this machine and even if it was double the price it would still be a contender - a great value choice.
Melitta Purista Series 300
£365
As the name suggests, this machine is for the coffee purist... and we love it! RRP is £400 but more normally £365 (or less). If you want hassle free good quality coffee, look no further.

The Purista Series 300 is a small footprint (only 20 cm wide) fully automatic coffee brewer. No milk frothing, just great black coffee (hey, if you really must have milk you can get an automatic milk frother on Amazon for circa £35). For the price, you will get a great cup of Espresso.

You can configure the Purista for coffee volume (25ml-250ml) so from a Ristretto to a decent Mug. Brew Temperature, Grind Level and Coffee Strength can all be programmed and the machine does a good pre-infusion before extraction. There is even a memory button to save settings for your favourite coffee configuration.

We love the small water tank, only 1 Ltr, and bean hopper, only 125g coffee beans, we think most reviews complaining about this are missing the design point - it keeps everything super fresh for the best coffee experience. Hygiene and maintenance score highly with this machine, automatic flushing and alarms for cleaning and de-scaling help with the maintenance tasks, Melitta cleaning tablets are economical and use of the dreg box as a waste receptical in the cleaning process is an innovative design feature. The design is minimalist and super sleek, it takes up little space on the kitchen counter and comes in a variety of finishes. Shown is the Limited Edition Jubilee Edition in matt black and gold. The machine lacks the ruggedness of a steel case and uses a lot of plastic but at the price it is understandable.

Melitta are known for making quality, good value, coffee machines and the Purista Series 300 checks all the boxes for the coffee purist at an affordable price. Lovely crema, good extraction, nice temperature range. For one touch high quality black coffee preparation at a value price point this is a great machine. In fact, it held our best buy trophy until ousted by the SCOTT Slimissimo.
Sage Barista Pro
£699
This is an elegant looking machine. The RRP is £699 but you might pick it up for closer to £600. As a 'mid-level' machine, you get a lot for your money. The materials used set it apart from the 'Value' espresso machines, it has a solid build and most importantly, makes really great coffee.

This machine is a consumer favourite and if you can get change out of £600 it is a bargain. Sage ranks highly in our recommendations and that is mostly due to feedback from our coffee recipients, many of them tell us they use the Sage machine and are thrilled with it. PID Temperature control; conical burr grinder; precise extraction; and a simple interface; alongside a beautiful compact design ensure the Sage is on our list.
Ratio 8
£850 (door delivered in UK)
Super stunning filter machine. This precision brewing filter machine is a cross between a stylish Chemex hand pour and a high end filter machine. I honestly cannot sing the praises of this machine highly enough. If it is filter coffee you drink, look no further - the Ratio 8 is the ultimate coffee maker, it's like having a barista do a hand pour over for you. Make sure to order the hand blown glass tank (not the plastic one). You can choose between a Glass Carafe or a Thermal Carafe - the Thermal is technically a better option but for sheer beauty the glass carafe gets my choice every time.

The coffee maker oozes sophistication, makes a super precice pour over, automatically blooming the coffee before the extraction. The temperature control is excellent as is the water flow.

You have to order from Portland in the USA, you can do it online, contact them by email first to confirm they can meet your requirements then tell them in the comments it needs a UK 220V spec and be prepared for the surcharges for Shipping, VAT and Import Tax. The US$645 price ex works jumps to GB£850 by the time the unit reaches your door. If you are in the USA you could order for next day delivery and lug it back and save a few pounds but that is not really a practical option.
Sage Oracle
£1,500
Dual stainless steel boilers; automatic grind and tamp; a heated Group Head; conical burr grinder; PID Digital Temperature Control accurate to +/- 1 Deg C, this is a significant step up from the Barista Pro. If it is within your budget and your heart was set on a Sage machine the Oracle is a great choice. A really top end consumer unit with very pleasant design yet compact enough to fit in most kitchens.

If I was selecting a Sage machine, this might be my choice. A good wand for creating silky smooth micro bubbles, clear displays with all the information needed to create a top notch extraction and cool aesthetics. This should be on the shortlist of anyone looking to spend around £1.5k on a coffee maker (as I write that down I am suddenly questioning my sanity, that is a lot of money to spend on a coffee maker). The machine has an RRP of £1,699 and that is a lot of cash for a consumer coffee maker. Anything over £1,500 and I might struggle to buy this model.
Elektra Micro Casa Semiautomatic SX
£1,300 + £400 for optional base
Now we are getting into some serious coffee machines. I love the Micro Casa Semiautomatic, it just looks utterly amazing, everything you expect from a prosumer machine.

Does it make a good espresso? Oh yes, but it does take some practice to get the most our of this beauty. I have the chrome version on the black base (an extra £400, but it is also a tamp box). When it first arrives, it is important to read the instructions carefully or you might be making a quick return to the store. The lady in the shop warned me in advance, so I am passing it on. If you do not properly fill the boiler and tank before initially switching it on you can burn out the heating element control. I was extra careful and did not have any problems but the lady in the store told me in advance so it was all good... seems several others have made the mistake.

I have had some issues with my machine but it is part of its charm, nothing major or overly expensive to resolve, just silly things like the pressure switch needing changed after about 12 months - scary bubbling sounds coming from the tank told me what I needed to know. Switch it off, cool it down, change the switch... good as new. Would I get rid of it for such an issue? Absolutely not, it is an awesome coffee maker.

It does get very hot to touch so if you have little kids and they will be in close proximity you might be better to look for something else but if you want great espresso and a comercial standard steam wand, get this on your shortlist. Sure it is not "cheap" but look at at, it is gorgeous, it is functional and it has the ability to make the best espressos.
Bazeera Strega
£1,500
Of all the machines on this list, the Strega (Italian for Witch) is my outright favourite. I adore the little witch, the polished stainless is classy looking and the lever pull is a dream. It is a special kind of lever machine, Bazeera have cleverly incorporated a 15bar pump that fills the group head and the barista has complete control over the extraction pressure, by adjusting the lever you can get exactly the extraction you want. To my mind it is far more intuitive, and offers greater control, than even the hugely expensive profile machines.

In terms of value for money you will be hard pushed to find a better espresso machine at this price point. It has a built in reservoir or you can plumb it directly, it uses a heat exchanger system, can give plenty hot water for stretching espresso to Americanos or Long Blacks, has a wicked wand (as all good witches should) that makes great milk for Latte's and my absolute favourite, the ristretto you can extract with this machine is incredible. With the Bazeera Strega you can extract the impossible, you can get every possible drop of goodness from the very best coffees.

For the true home espresso lover, the Strega is the one. It has some drawbacks, the lever is quite high so finding the right place for it might be a little problematic, if you are not careful with the lever and it kicks back you will get a fright at best and a really sore jaw if your head is anywhere near it (so keep your chin well away from the lever at all times). If you pull too violently on the lever there can be a tendency for the unit to lift off the worktop but that is just practice, once you master a smooth action you will easily operate the machine and pull some amazing espresso shots. Much more satisfying than pressing a button.
Sage Oracle Fully Automatic
£1,900
Having crossed the £1,500 barrier, we are into some pretty serious coffee machines and a hefty load off the bank account. Here we look at the Fully Automatic Oracle (Oracle Touch) from Sage, the Australian Breville company actually make these machines but they use the marque Sage in the UK because of the conflict with the UK Breville famed for their toasters, grills and other kitchen appliances - confused? You are not alone, to add to the confusion the Breville machine in the US gets better long term reviews than the UK or Germany machines, which may indicate different manufacturing for various markets.

The Sage machine provides a great deal for your money. The built-in grinder is a big bonus and if you add the cost of a good grinder to the Micro Casa or Strega above, you are looking at a similar total outlay. The Oracle Touch is in a slightly different category though. It is a fully automatic machine, a top-of-the-line bean to cup machine with a modern interface and makes consistently good coffees. For many of the 'purists' the very thought of just pressing a button to obtain your coffee shot might send shivers down the spine but for pure convenience you cannot beat it. Does it make 'exceptional' espresso drinks? The short answer is No, it makes good coffees very easily but if you are looking to get the absolute best out of your coffee you need a lot of skill and a different machine. This is all about convenience.

If you are a relative novice to coffee brewing, have deep pockets, and want a great coffee, this machine has got to be on your list with little, or no, coffee brewing experience you can be creating really good coffees out of the box. Most espresso machines require a fairly high level of skill to get the best out of them but Sage have made it easy for everyone. There are other manufacturers making prosumer bean to cup machines, such as Jura, but in my experience the Sage products have the edge over others in this price bracket (I am referring to bean to cup machines).

If you like Espresso based milky drinks such as Lattes, Flat Whites or Cappuccinos then frothing milk properly takes a lot of skill and practice but with the Oracle Touch... you can let the machine do the work. It has an automatic steam wand to deliver the right milk textures for your drink and the dual boiler makes sure you can make espresso and froth at the same time.

Overall I can say that this machine tops my list for convenience but for the very best coffee taste, if you are prepared to work at it and are looking for that exceptional experience, then you need to look elsewhere.
Electra Sixties T1
£3,200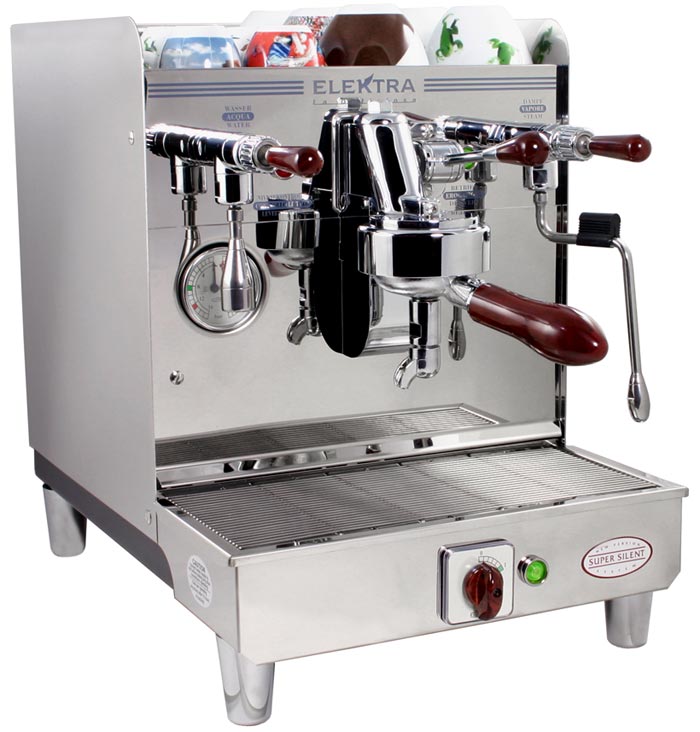 I included the Elektra Sixties A3 Model (top picture) because it is consistently rated the best small espresso maker but they have now been discontinued by Elektra and replaced by the T1 Deliziosa which has the row of buttons at the bottom. Elektra sell these in their Professional Bar range, rather than a consumer product, but many home baristas (looking for the very best coffees) operate single group A3's or T1's. Of course asking if the Elektra is 'the best coffee machine' is like asking what the best car is, everyone has their own taste and their own opinon but if you are really serious about your espresso you need to be giving consideration to the compact Elektra. I bought my A3 used and re-conditioned in 2016 for £900 and I have to say that was a sweet buy.

As you can imagine, commercial grade coffee makers are much more reliable than consumer machines and you can pull extractions all day (perhaps overkill in most homes but, using the correct beans, the coffee is unbelievable). The machine weighs in at a hefty 37kg vs 17kg for the Sage Oracle Touch or 28Kg for the Bazeera Strega and it needs to be directly plumbed to a water connection (no built in tank). While this means you do not ever have to worry about filling the tank, you may need to get a plumber to install a line, valve and connect it.

In addition to the cost of buying and installing the machine you will need to budget for a good grinder, the top rated Mazzer Mini is around £900 and the best in class economy grinder for espresso is the Baratza Encore retailing at around £150.00. My personal favourite is the Elektra MSC Grinder but they are not cheap, I got mine on sale for £650 but it is such a beautiful espresso grinder and alongside the Micro Casa it looks stunning.
Vesuvius V2
£3,300
The Vesuvius V2 is a high end prosumer unit. It is not sold as a comercial unit and in this bracket it carries a lofty price of £3,300. Add a good grinder and you are looking at investing £4,000 in your morning coffee maker, but wait, if you assume this marvellous piece of kit is going to last you the best part of 2 decades (and with reasonable care any of the prosumer units easily could) you are now looking at 55p per day, a fraction of the markup at your local coffee shop and you have this in the comfort of your own home. Okay, there is some maintenance over the 20 years but you get my point, in the long run the machine will easily pay for itself vs buying from your local coffee outlet and you are free to buy much better coffee beans to get even more delicious coffee.

If you are prepared to make the long term investment, and can afford it, what do you get for your cash? Well the Vesuvious V2 lets you profile. That means you can set the pre-infusion and infusion to just the way you want them, depending on the coffee you are extracting. Most espresso machines pull the same extraction no matter what coffee you use so they are a one-size-fits all type of espresso machine but the Vesuvious is much more versatile and gets you much closer to the type of extraction you can get with a lever pull. Of course, it is programmable so once you get the pressure and times just right for your beans you can save the profile and get that extra special extraction again and again and again. You can do more with the lever but you need serious skills and even more so to replicate the extraction again and again.

The big variable with this machine is the grind and tamp. You still need the barista skills to get that consistant. Overall it is a stunning machine, is only 23Kg, and is the ideal combination of convenience and control that home coffee connoisseurs will love. It has a built in water tank that is easily filled from the side and can also be directly plumbed if you like - best of both worlds.
Summary
That's our list over, all great coffee machines, in their own right, each very capable yet each very different. I guess you still want me to pick a winner though, it's just human nature.

I have to say that if I was forced to pick only one of the above machines, and budget was not a consideration, it would probably be the Bazeera Strega as an Espresso maker, this is because of its total versatility; the on board tank; ability to plumb direct; the lever pull and infinite extraction control; great steam wand; and a hot water wand for stretched espressos. The closest thing you will get to a coffee shop in your home.

In the Filter class the Ratio 8 is hands down easy winner in my book, it makes the most amazing pour over coffee and looks beautiful.

Taking budget into consideration, and the fact I am a coffee purist, the Melitta Purista Series 300 was my pick in the value bracket - until the SCOTT Slimissimo stole the crown. Simple operation, elegant looks, small footprint and a super cup of coffee makes this unit a winner. The high performance pump, less "plasticy" looking body, and some imaginative design give the Slimissimo the edge over the Purista.

What I think is not overly important though, you need to get a shortlist that fits your requirements, do some homework and check each one out then make your own choice, do not get hung up on what others think, I caution you to choose wisely because if you make the right choice you will likely be living with that machine for a very, very long time.

Whatever coffee maker you end up with, remember that the machine can't make bad coffee beans any better but a good machine, and a good barista, can get the most out of great coffee beans.

Happy Shopping.